Cross Cultural Perspectives at the Newark Museum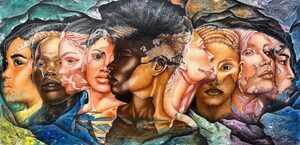 The Newark Arts Festival 2023 signature exhibition, open to the public from September 27 through October 29, will provide Cross Cultural Perspectives in a truly powerful way: through the visual arts. This poignant exhibition will enhance each attendee's cultural experience by providing a rich bounty of diverse viewpoints, artistic mediums, and voices to be valued.
The exhibition is co-curated by Adrienne Wheeler, Visual Artist and Independent Curator, and Atteqa Ali, Associate Curator, Arts of Global Asia at The Newark Museum of Art. It will feature artworks by a remarkable roster of 90+ artists from Newark and beyond. Participating artists will include: Cecilia Martinez, Marina Carreira, Doune Clermont, Allison Capel, Nette Forné Thomas, Timothy Simmons, Sherwin Banfield, Theda Sandiford, Antoinette Ellis-Wiliams, Anonda Bell, Cathleen McCoy Bristol, France Garrido, Kervin Andre, Fausto Sevila, Ida Ochoteco, Gregg Banks, Beau McCall, Kathleen Heron, Patricia Dahlman, Kirk Maynard, PaulA Neves, Aubrey J. Kauffman, Sandra Charlap, M.Malcolm King, Ife' East, Ameerah Shabazz, Sue Eldridge Ward, Martryce Roach, Joseph Eze, Simone Bailey Campbell, Caren King Choi, K. Eleven Muldrow, Melisa Gerecci, M'nard Derosena, Ron EA Powell, Beth Heit, Kay Reese, K Brown, Maria Estela, Dionne Jackson, Josephine Barreiro, Nathan Williams, Fatou Ridgird, Anthony Akanbi, Manman Huang, Terry Boddie, Armisey Smith, Kween Moore, Eric Valosin, Tiara Fitch, Ricardo Osmondo Francis, Malik Whitaker, Rachel Fawn Alban, Serron Green, David James, Yvonne Onque, Teena Soni, Suliman Onque, Anibal Padilla, Samad Onque, Denise Toney, Dawn Tighe, Jazlyne Wooden, Gwen Charles, Darryl Dwayne, Samantha Treadwell, Emanuele Cacciatore, Devin Alexander, Amira Rogers, Rebecca Goyette, Kortez Artist, Cali Smith, Elizabeth Menzie, Devynity Wray, Judyann Affronti, Linda Street, Terence Grimsley aka Alkhem Eternal, Anniyah Bilal, Stephen B. Ellis, Dominique Duroseau, Maimouna Sow, Anker West, Luisa Fernanda Pinzon Romero, Mashell Black, Heather Williams, Ziui Chen Vance, Anne Dushenko Dobek, Frank Soto, Patricia Andrea Patzi, David Christopher Orrell, Kilolo Kumanyika, Dennis Chima Dike, Vazquez, Diana Candelejo, Pam Owens, Juan Giraldo, Dominant Dansby, Danielle Scott, Yasmine Barboza, and Anindita Dutta.
---
"Going Deep: Work and Process Presented by Three Artists"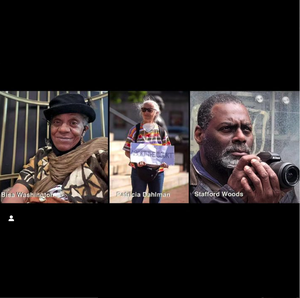 As part of North2Shore Festival, join us for Index Art Center's "Going Deep: Work and Process Presented by Three Artists" on Saturday, June 24, 2023 from 12-5 at 245 Halsey Street in Newark, NJ. This will be a three person exhibition with Bisa Washington, Stafford Woods and Patricia Dahlman. Each artist will be giving an individual lecture about their work and then will be interviewed by Colleen Gutwein-O'Neal. The event and exhibition is co-curated by
Colleen Gutwein-O'Neal and Lowell Craig.
---
"Arc of the Viral Universe" notebooks at Hudson Valley MOCA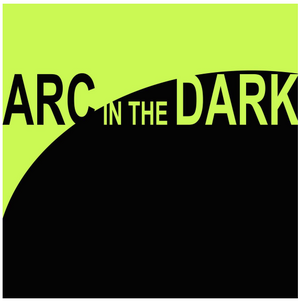 "Arc of the Viral Universe" notebooks at Hudson Valley MOCA
Peekskill, NY
Throughout the summer of 2023, Saturdays 11am-5pm
"Thanks to the generous efforts and collaborative spirits of Studio Theater in Exile's Director, Mara Mills and her colleague, Jeremy Gratt, we have been invited not only to exhibit the notebooks, but to participate in a uniquely interactive event that will encourage the public to engage with the notebooks on a whole new level."
Carla Rae Johnson
https://www.studiotheaterinexile.com/exhibitions
---
---
BLOOM! Gallery Aferro's 20th Anniversary Benefit Art Auction & Party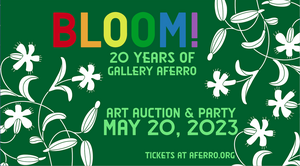 BLOOM!
Gallery Aferro's 20th Anniversary Benefit Art Auction & Party
Saturday, May 20th, 7-10PM
73 Market Street Newark, NJ


Advance tickets of only $35/regular or $125/VIP on sale

here



"A rose is a rose is a rose" and art is in full bloom at Gallery Aferro's 20th Anniversary Benefit Art Auction & Party. Make your way to the verdant art-covered walls of Gallery Aferro for cake, cocktails and contests for a celebration of Newark's oldest operating artist-run alternative space.

There will be

two full floors of artwork

up for bid, to enlarge or establish your collection.

Artists with works in this year's auction include: Judyann Affronti, Isser Aronovici (1932-1994), Lolu Aguda, Julian Adon Alexander, Mauro Altamura, Sybil Archibald, Nora Evita Aresti, Kenseth Armstead, Aileen Bassis, Deborah Bell, Angel Bellaran, Katrina Bello, Kim Berman, Ruth Borgenicht, Debby Branch, Emily Brown, bydemilade, José Camacho, LG Carpenter, Patricia Dahlman and Michael Dal Cerro, William Clutz, Santiago Cohen, Christopher Cozier, Kevin Cuddy, Christine DaCruz, Evonne M. Davis, Derek Jay Dent, Nitjuan Designs, David Driskell (1931-2020), Predrag Dimitrijevic, Anne Dushanko Dobek, Kevin Durkin, Kate Eggleston, Dahlia Elsayed, Rachael Faillace, Eileen Ferara, Benedicto Figueroa, Jessica Floyd
Parastou Forouhar, Matilda Forsberg, Aaron Leonard Freeland, Michael Fresco, Julie Gallagher, Iliana Emilia Garcia, Melisa Gerecci, Bryan Nash Gill (1961-2013), Elizabeth Gilfilen, Marsha Goldberg, Allan Gorman, M. Gosser, Jaz Graf, Gladys Barker Grauer (1923-2019), Katelyn Halpern, Eric Hartl, Vincent Hawley, Zuzu Hill, James Horner, Heather Johnson, Jan Kathleen, John Keefer, Kendog, Donna Kessinger, Ian King, Katarina Kissoczy, Robert Kosinski, Rory Krupp, Vijay Kumar, Sylvia Alejandra Padilla Lalaleo, David LaMorte, Zohar Lazar, Paul Leibow, jc lenochan, Laura Lou Levy, Crystal Marshall, Faith Ringgold & Grace Matthews, Jose Trejo Maya, Stephen J. McKenzie, Anne Q. McKeown, Hasnat Mehmood, Jennifer Morrison, Alejandra Munizaga, Margaret Murphy, Elisa Nadzieja, Nelle, Olga Nenazhivina, Linda Lee Nicholas, Leslie Nobler, Christy E. O'Connor, ShyU ONE, William A. Ortega, Jeff Oyo, Nell Painter, Kelly Ann Pinho, Gail Winbury, Psy.D., Elisabeth Page Purcell, Dominic Quintana, Carol Radsprecher, Kay Reese, Victor Reynolds, Gabriel Ribeiro, Derrick Riley, Jillian M Rock, Steve Rossi, Cassandra Saint-Jean, Christine Sauerteig-Pilaar, Sam Sebren, Fausto Sevila, Erika Shallcross, Michael Sherman, Joseph Silvestro, Penny Siopis, Armisey Smith, Kiki Smith, Buzz Spector, Christine Stoddard, Lizzy Storm, Kristina Taylor, Rollo Thomasey, Bleriot Thompson, time, Anne Trauben, Samantha Treadwell, Chris Twomey (1954-2012), Miyuki Tsushima, Christopher Ulivo, Thomas P. Valenti, Eric Valosin, Mary A. Valverde, John Walker, Bisa Wendy Washington, Ken Weathersby, Kenneth Webb, Tenesh Webber, Adrienne Wheeler, Barbara Wilk, Heather Williams, Philemona Williamson, Sara Wolfe, Agnieszka Wszolkowska, Aaron Wuerker, Layqa Nuna Yawar, E.Y. Yun, Ozaki Yutama, Mág Ne Tá Z'air, Juno Zago and more to be announced in the coming weeks.
---
LUMINOUS ELSEWHERES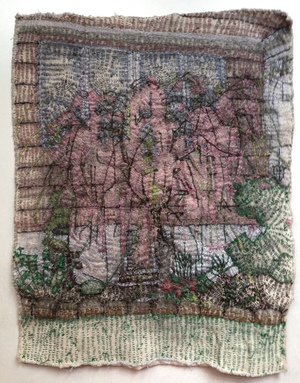 March 31 - April 28, 2023
Opening reception: Friday March 31, 6-8pm
Closing reception: Friday, April 28, 6-8pm
For exhibit updates and events:
55 Bethune Street at Washington Street, New York, NY 10014
Wednesday through Sunday, 1-6pm
Westbeth Gallery will host Luminous Elsewheres, an exhibit featuring artists who actively explore visual domains that
are evocative, mysterious and unexpected. Eschewing the confines of logic and linearity, Luminous Elsewheres artists are receptors through whom "the echoes and reflections of an irrational elsewhere flow freely and take form." (Daniela
Ferretti) The exhibit will be on view from March 31 through April 28, 2023
The following artists will be featured in Luminous Elsewheres: Phoebe Adams, Tracey Adams, Cheryl Aden, Deborah Barlow, Hedwig Brouckaert, Janine Brown, Leigh Anne Chambers,
Mi-Jin Chun, John Cox, Alison Cuomo, Patricia Dahlman,
Silvia De Marchi, Tina Feingold, Karen Fitzgerald, Kathryn Geismar, Caroline Golden, Ed Grant, Laura Gurton, Lynette Haggard, Carole Kunstadt, M P Landis, Joanne Lefrak,
Denise Manseau, Donnelly Marks, Elizabeth McAlpin, Diane McGregor, Elizabeth Mead, Elizabeth Mooney, Kellin Nelson, Paula Overbay, Heather Palecek, Sky Pape, Deborah Peeples, Laura Ann Perry, Mary Pinto, Taney Roniger, Larry Rushing, Ann Sgarlata, Julie Shapiro, Sarah Slavick, Rhonda Smith, Malu Tan,
Linda Tharp, Priya Vadhyar, Debra Weisberg.
Luminous Elsewheres is curated by Deborah Barlow, Alison Cuomo and Karen Fitzgerald.
---
---
Newark Arts Festival's annual fall exhibition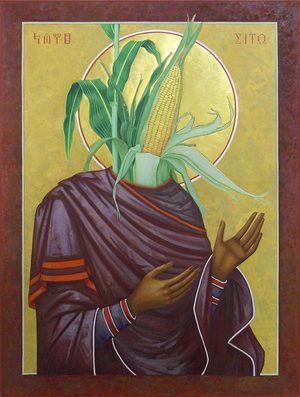 The Newark Museum of Art hosts the Newark Arts Festival's annual fall exhibition and the opening of NAF 2022.

The arts provide some of the most powerful outlets for spreading healing in our world. The theme in 2022 features art as medicine. As an acknowledgement of the challenges of our times, NAF 2022 aims to create a collective restorative experience through thoughtfully curated artwork, performances, and programming meant to help our artist community and Festival attendees heal holistically. Participating artists have been challenged to demonstrate what healing means or looks like to them and inspire others with their messages of hope, comfort, and encouragement. Through October 30, 2022. For more information go to https://newarkmuseumart.org/
---
Arc Books on the Road Again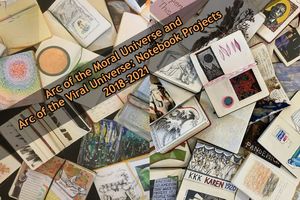 The "Arc" Notebooks are on the Road Again!
"The Arc of the Moral/Viral Universe" will be on exhibition at
SUNY WESTCHESTER, Center For Digital Arts
Exhibition: through April 26, 2023
27 North Division Street, Peekskill, New York 10566
Gallery Hours:
Monday – Thursday 10:00 am – 8:00 pm
Friday - 10:00 am – 4:00 pm
Saturday - 10:00 am – 3:00 pm
For more information, please call 914-606-7300
Sherry Mayo, Gallery Curator

Participants: "Arc of the Moral Universe"
Gabriel Adames - Karen Allen - Ori Alon - Inez Andrucyzk - Gus Angelos – BOLDFACE - Sally Bowring - Jo-Ann Brody - Anne Bruce - Edward Burke - Angela Carrozza - Judy Collischan - Sarah Connors - Ada Cruz - Linda Cunningham - Kathy Daley - Ellen Hackyl Fagan - Karen Fitzgerald - Marcy B. Freedman- Wendie Garber
Fred Gillen, Jr. - Bonnie Glauber - Pearl Rosen Golden - Susan Grabel - Sarah Havilland - Hillary Hoffstatler - Phillip Hopper - Carla Rae Johnson – Rick Kline Robin Kline - Harry Kollatz - Mary McFerran Brook Maher - G Ray Mak - Willie Marlowe Mara Mills - Linda Mylish - Ilse Schreiber Noll - Susan Obrant - Amie Oliver Barbara Page - Mary Tooley Parker - Marina Payne - Cristina Ramos Payne - Francine Pearlman Bonnie Peritz - Jessica Rechtschaffer - Sheilah Rechtschaffer Jacqueline Rivera - Marilyn Rosenberg - Jeanne D. Shaw – Rose Spano Swider - Laurie Steinhorst - Nadine Gordon Taylor - Peg Taylor - Lavinia Wiggins - Dava Frog Wing - Maureen Winzig - Marjorie Z.

Participants: "Arc of the Viral Universe"
Karen Allen - Inez Andrucyzk - Anne E. Bruce - Jo-Ann Brody - Angela Carrozza - Laurel Garcia Colvin - Linda Cunningham - Patricia Dahlman - Maria DeLaney - Beth DeWitt - Maureen Dillon - Flori Doyle - Linda Jean Fisher – Marcy B. Freedman Wendie Garber - Bonnie Glauber - Steve Jacoby - Claudia Jacques - Carla Rae Johnson - Barbara Lipp - Mary McFerran - G. Ray Mak - Brook Maher - Willie Marlowe - Susan Obrant - Amie Oliver - Francine Perlman - Pearl Rosen Golden Cristina Ramos-Payne -.Jacqueline Rivera - Sharon Rubinstein - Ann Shapiro Devin Siglock - Barbara Suggs - Peg Taylor - Lavinia Wiggins – Dava Frog Wing
https://www.facebook.com/anotebookproject
---
Artists For Reproductive Rights Art Auction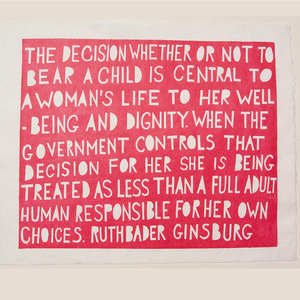 FAIRSHARE ART AUCTION on Instagram for Women's Reproductive Rights from July 26- August 2
https://www.instagram.com/fairshareartauction/?hl=en
---
DEMOCRACY NOW!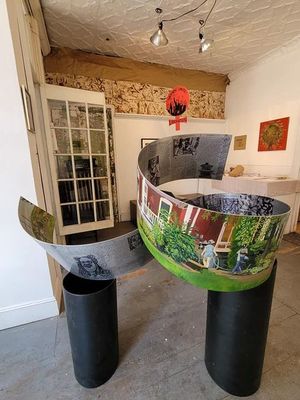 Pleased to be included in "DEMOCRACY NOW!" curated by Jackie Lima at Gallery Gaia
https://www.facebook.com/Gallery-GAIA-545429298888167 79 Hudson Ave. Vinegar Hill (short walk from DUMBO) Brooklyn, NY through August 28, 2022. Hours: Saturday and Sunday 2-7.
LIST OF ARTISTS with Work in DEMOCRACY NOW!
MIEKO ASADA
AILEEN BASSIS
LESLIE ARLETTE BOYCE
SARLA CHANDA
URSULA CLARK
GIANLUCA COSTANTINI
PATRICIA DAHLMAN
MICHAEL DAL CERRO
SALLY ECKHOFF
MARION FITZWATER
ESTHER GRILLO
PETE GOURFAIN
NEDDI HELLER
ANGELA M. LA MONTE
CHRISTIAN LE GARS
LIGORANO/REESE
JACKIE LIMA
TSAURAH LITZKY
STEPHANIE HOLLER MORROW
MARY JANE MURGOLO
FRED NELSON
SHALOM NEUMAN
NEETU SINGHAL
NANCY STEINSON
TAMARA WYNDHAM
---
Arc of the Viral Universe: a Notebook Project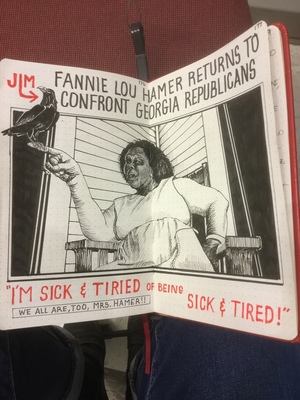 Exhibition
Where: Ossining Public Library Gallery
When: April 3 – April 27, 2022
Library Hours: Monday: 9am-9pm – Tuesday: 10am-6pm
Wednesday:1pm-9pm – Thursday: 9am-9pm – Friday: 10am-6pm
Saturday: 9am-5pm - Sunday: 1pm-5pm
Opening Reception: Sunday, April 3, 2022, 2pm – 4pm
At the opening you can meet the "Arc-ists" and see a presentation by "Arc-ivist," Carla Rae Johnson
Imagine you are about to meet someone new in 2022. You do not know their politics; nor their attitudes toward social justice; nor what they think about masks, vaccines, or climate change. You have no idea what their approach is to science or history. Imagine gaining insights into what they think is most important about being human; learning about their dreams and hopes for the future; finding out what catches their attention in the morning and what they worry about each night before they drift off to sleep. Imagine getting to know all of this through words and images, without having to ask a single question, without running the risk of offending, or fearing a disagreement! Welcome to the "Arc of the Viral Universe" notebooks!
Curator/Arc-ivist Carla Rae Johnson conceived of Arc of the Moral Universe: a Notebook Project" following the 2016 presidential election and expanded upon it with Arc of the Viral Universe at the start of the COVID pandemic. She recognized that these world-altering events presented unique historic moments, and that it would be important to invite thoughtful, creative colleagues to record and document their lives, works, and thoughts during this critical moment in time - first between 2018 and 2019 and then again between April 2020 and April 2021.
Curator/"Arc-ivist," Carla Rae Johnson describes the origins and intentions of these profound and timely notebook s: "In recent years, I have been increasingly concerned about the trajectory of justice in our country. A quote by Theodore Parker was recurring in my mind:"
"I do not pretend to understand the moral universe, the arc is a long one, my eye reaches but little ways. I cannot calculate the curve and complete the figure by the experience of sight; I can divine it by conscience. But from what I see I am sure it bends towards justice." Theodore Parker 1853 (quoted by Dr. Martin Luther King, Jr., and President Barak Obama)
Does the arc indeed bend towards justice? How has the pandemic influenced the arc's trajectory?
At the Ossining Public Library Gallery, you will find more than thirty notebooks on display in the gallery so that you can browse through each page. These notebooks are beautiful, personal, insightful, and thought-provoking.
"Arc of the Viral Universe"
Participants
Karen Allen - Inez Andrucyzk - Anne E. Bruce - Jo-Ann Brody
Angela Carrozza - Laurel Garcia Colvin - Linda Cunningham
Patricia Dahlman - Maria Delaney - Beth DeWitt Maureen Dillon Flori Doyle - Linda Jean Fisher - Marcy B. Freedman- Wendie Garber Bonnie Glauber - Steve Jacoby - Claudia Jacques
Carla Rae Johnson - Barbara Lipp - Mary McFerran - G. Ray Mak Brook Maher - Willie Marlowe - Susan Obrant - Amie Oliver Francine Perlman - Pearl Rosen Golden - Jacqueline Rivera
Sharon Rubinstein - Ann Shapiro - Devin Siglock - Barbara Suggs Peg Taylor - Lavinia Wiggins
Please visit these Facebook pages for additional information, images, and exhibition updates:
Arc of the Moral Universe@thefirstnotebookproject
Arc of the Viral Universe@anotebookproject
Visit Carla Rae Johnson's website for more information on the arc-ivist/arc-ist
---
"All Will Be Recognized"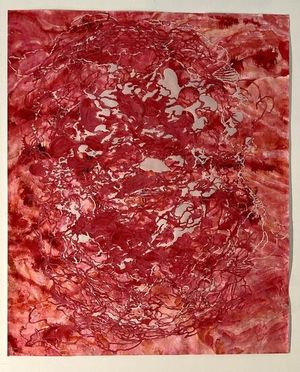 Pleased to exhibiting with Spliced Connector group on Artsy with the online exhibition "Everything Will Be Recognized." Curated by Karen Fitzgerald and Ann Sgarlata.
https://www.artsy.net/show/shim-art-network-spliced-connector-winter-2022-exhibition-everything-will-be-recognized?sort=partner_show_position&fbclid=IwAR2cfW8G4a2yYIbB7NNSmbS6xdx2FSS1hMd0n86Lgs8esKIpL2askTWaTds
---
"Sidewalk Art Show"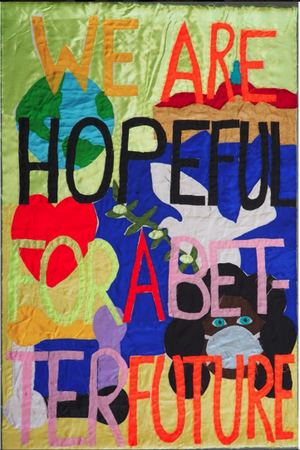 "Sidewalk Art Show" at The Museum of Early Trades & Crafts. METC selected a group of New Jersey artists to make banners for an exhibition held in the METC Education Annex from October 27, 2021- February 26, 2022. Artists were invited to create original fine artwork on canvas material that was provided. Each banner is a one-of-a-kind work of art using any medium of the artist's choice reflecting the theme of "Hope."
http://metc.org
---
Art Fair 14C, Booth #A18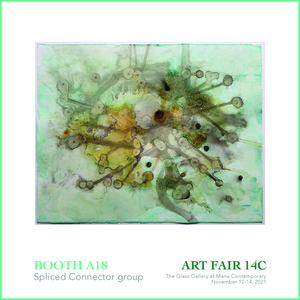 Please join us this week at 14C Art Fair at Mana in Jersey City, NJ and visit Spliced Connector group at Booth
#A18
. The fair runs from November 12-14, 2021
I'll be showing embroideries and drawings.
---
Spliced Connector Fall 2021 Exhibition: Things Are Not What They Seem | Organized by Karen Fitzgerald | Hosted by SHIM Art Network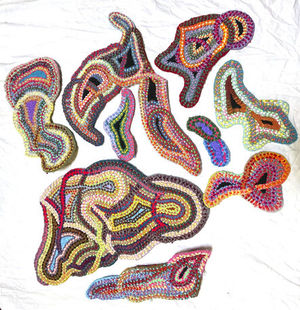 Our perceptions and intuitions fit our animal bodies. Our animal brains have tended toward a desire to measure things, to fit ideas into provable hypotheses that explain the mysteries abounding in our everyday experience. We wish to know things.
Physicists have been working hard to help us know things. They've uncovered secrets hidden in atoms, and made visible things our eyes cannot actually see. They've identified 3 features of our world that undergird the myriad of our perceptions.
Our world is granular.
Our world is indeterminate.
Our world is relational.
What does that mean? It means that we are alive in a web of processes: we are always in the process of passing from one interaction to another. The thinglyness of our perceptions are resultant, that is, we perceive solidity because of the ongoing interactions of tiny particles. At a micro level (think atoms), relational interaction is what yields our bodies, the very air we breathe. While true with the physical world, it is only a small stretch to also understand it as true with our body politic, our body economy, our psychological selves.
The work in this exhibition manifests many of the new understandings physicists have achieved. When one reads a lay-person's text regarding the new physics, there are striking parallels with the visual language. The curvature of space/time; the frothing of particulate interactions. It is not too difficult to see these in the painting vocabulary of contemporary abstraction. "Light falls on a surface like a gentle hail shower;"[*] even light has grains (photons). The non-abstract work of this exhibition also speaks to the opaque, ambiguous, and hidden layers of what is real.
The visual language is powerful in helping us come to know things. Unlike mathematics, the visual language inhabits the edge of interaction; that potent space where our imagination intersects with the visual language, illuminating things that are not what they seem.
[*] Carlo Roveli, Reality Is Not What It Seems, (Riverhead Books, NYC, 2014), 113.