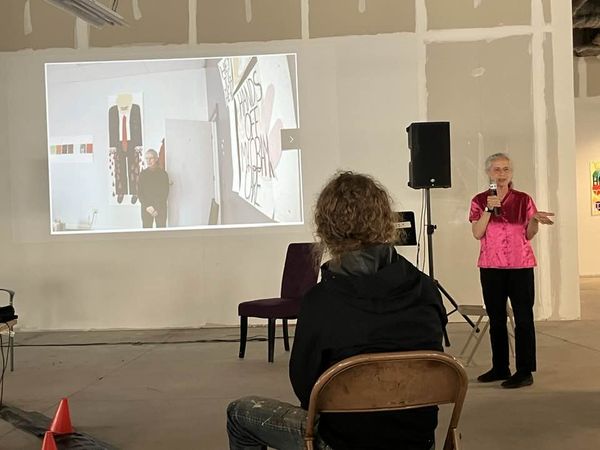 Patricia Dahlman was born in Cincinnati, Ohio and studied art at Wright State University in Dayton, Ohio and Yale University Summer School of Art and Music in Norfolk, Connecticut. Dahlman has lived and worked as an artist in Seattle, San Francisco and the New York City area. She has received a New Jersey State Council on the Arts, Individual Artist Fellowship in Crafts, a Creative Catalyst Fund Grant from the City of Newark, a New Jersey Printmaking Fellowship to Rutgers Center for Innovative Print and Paper, two Geraldine R. Dodge Foundation Fellowships to attend Vermont Studio Center and Virginia Center for Creative Arts. Dahlman also received a Puffin Foundation Grant Award for the War and Peace Print Project, a Yaddo Artist Residency, a Gallery Aferro Studio Residency, an Index Art Center Studio Residency and participated in Aljira Emerge, an artist development program in Newark, New Jersey and Creative Capital Professional Blending Learning Program for New Jersey Artists. Dahlman has exhibited her work all over the United States and has been included in exhibitions at George Adams Gallery in NYC, Bedford Gallery in Walnut Creek, CA, The Center for Book Arts in NYC, Jersey City Museum in Jersey City, NJ, Hunterdon Art Museum in Clinton, NJ, The Newark Museum of Art and ODETTA Gallery in Brooklyn, NY. In 2007 Dahlman made two site specific works for "Art In The Windows" at the New York Public Library, Mid-Manhattan Library and again in 2015 she made a large site-specific work for "Art Wall on Third" at the Mid-Manhattan Library. In 2010 Dahlman had a one person exhibition, "The Art and Science of Happiness: Patricia Dahlman," as part of the Dana Women Artist Series, at Rutgers University in New Brunswick, NJ. In 2017 Patricia spent a month in Arnhem, Netherlands as an AIR at Slak Ateliers. In 2020 and 2019 Dahlman made Public Art Works for "Windows of Understanding: We See Through Hate" in New Brunswick, NJ. Dahlman has a studio at Project for Empty Space in Newark, NJ and lives in Lyndhurst, NJ with her husband the artist Michael Dal Cerro.
Work can also be seen at
https://newarkartistsdatabase.org/artist/patricia-dahlman/
https://www.artsy.net/artist/patricia-dahlman
A short video of Patricia Dahlman discussing her work and being a Newark artist. Video made by The Newark Museum of Art.
https://www.youtube.com/watch?v=qYtTfysPyjw
https://www.instagram.com/watpaetki/
"Going Deep" artist talk with Index Art Center
https://www.youtube.com/watch?v=MBCSgwfFplc
https://hyperallergic.com/835718/a-view-from-the-easel-214/
photo above by Anne Dushanko Dobek