Intimate Lines: Drawing with Thread
Sept. 17 — Jan. 7, 2018
Intimate Lines: Drawing with Thread, curated by Carol Eckert
In Intimate Lines: Drawing with Thread, 16 artists wield a needle like a pen to compose intensely personal stories and record intimate histories.
In this upcoming Hunterdon Art Museum exhibition, which opens Sept. 17, artists deal with relationships, gender and identity; their works show exquisite textured drawings that expand upon textile traditions to make compelling contemporary statements.
"Stitching is an intimate physical act, closely connected to the body," said Carol Eckert, who is curating this exhibition. "An often solitary process, it is at once time-intensive, relentless and contemplative. The artists in this exhibition create works that are inextricable from the process itself — intensely personal figurative images drawn with tangible stitched lines."
Using thread as both a tactile and symbolic medium, these artists approach the traditionally painstaking process of embroidery with a modern sensibility. Building upon historic textile processes and working within the tradition of figurative imagery, they create dialogues between old and new — dialogues intensified by the use of found embroideries, vintage postcards, old photographs, and paper maps.
Viewers will also discover everything from the history of textiles and traditional toile patterns to modern pop culture references to comic book heroes and selfies.
For instance, artist Richard Saja employs traditional toile patterns – toile is French for cloth, and today refers to a one-color print typically of a pastoral scene or arrangement of flowers – and interrupts them. He'll embroider, say, wings on a monkey or ladybugs on a flower.
Kelsey Viola Wiskirchen incorporates Latin American needlework practices and the women she has met and the stories they told are represented in her work. "My purpose as an artist is to examine the experiences women share: stories, skills, and traditions passed on to younger generations," Wiskirchen noted.
Regarding contemporary references, Sophia Narrett's work is drawn through pop culture references, whether it's the television programs The Bachelor and Orange Is the New Black, or rapper Kendrick Lamar. She has three pieces in this show, including "I Can't Stop Crying Except Sometimes When I Think About Ari Gold," a reference to the character portrayed by Jeremy Piven in the TV program Entourage.
Eckert said Narett's complex, colorful narratives were developed from her background as a painter. "Hand-stitched with vibrant cotton threads, her expressive compositions referencing pop culture and social issues float slightly off the wall, casting shadows that emphasize their three-dimensional qualities," Eckert said.
Diem Chau, whose figurative images are stitched across porcelain vessels, creates delicate vignettes of fleeting memory, gesture and form, resulting in works that combine an egalitarian sensibility with a minimalist restraint. Her work touches on the value of storytelling, myths, and how those connect us all.
And, while most of the show's artists use hand stitching, Paul Nosa works with a solar-powered sewing machine to construct intricate narratives that often include map imagery.
Also featured in this exhibition are artists Pinky Bass, Mary Bero, Patricia Dahlman, Michelle Kingdom, Daniel Kornrumpf, Aurora Molina, Mark Newport, Iviva Olenick, Stacey Page, Ehren Elizabeth Reed and Melissa Zexter.
Intimate Lines: Drawing with Thread's opening reception is Sunday, Sept. 17 from 2 to 4 p.m. It runs until Jan. 7, 2018.
This exhibition is generously supported by the Coby Foundation, Ltd.
---
IMPEACH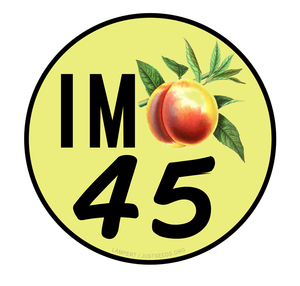 IMPEACH
An online exhibition of art work by twenty artists
Katherine Aoki, Deborah Harris, Nicolas Lampert,
Cicely Cottingham, Art Hazelwood, Ilse Schreiber-Noll, Priscilla Stadler, Tim Fite, Anne Q McKeown,
Anne Dushanko Dobek, Robyn Ellenbogen, Joseph O'Neal, Donna Coleman, Robert Geshlider, Michael Dal Cerro Leona Strassberg Steiner, Barbara Madsen,
Ray Must, Carol Radsprecher and Patricia Dahlman
https://sites.google.com/view/impeach
https://actipedia.org/project/impeach
https://talk.whatthefuckjusthappenedtoday.com/t/wtf-is-impeach/134?utm_source=WTF+Just+Happened+Today%3F&utm_campaign=5cf4cacfdf-Day_195_Seriously_flawed_8_2_2017&utm_medium=email&utm_term=0_9813b73b1a-5cf4cacfdf-158627809

---
ART BLOCK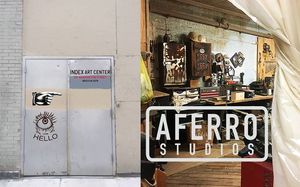 Join us for an exciting collaborative event featuring two venues on the same block in downtown Newark featuring more than 30 artist's open studios, 4 exhibitions, and multiple storefront public-art installations. Gallery Aferro, and Index Art Center will all open their doors to the public for an Art Block Party!
Artist's and Exhibitions at Gallery Aferro:
Info coming soon!
Index Art Center Open Studios
237 Washington Street, Newark NJ
Participating Artists:
Patricia Dahlman, Spencer Frohwirth, Colleen Gutwein and Joseph O'Neal, Kevin Durkin, 'and / or' Colin Sheilds and Frank Anderson, 'Afterlife' Jennifer Schwartz, Sohoah Lee, Agnes Deja, Linda Everswick, Heidi Lorënz-Wettach Hussa, Gabe Gutierrez, and Jilli
an Keats

Also on view: Landholdings featurings works by Nell Painter, Sara Fox, Mike Belleme, Anne Percoco, Ellie Irons, and Jamie Bruno


http://

www.indexartcenter.org/

?page_id=1123

IAC Ground Floor: Art and Architecture of Newark:
AAN is part of Index Art Center's new curatorial residency program.
Our current Resident curator is Matthew Gosser- more info on the way!
---
OUTRAGE: Artists Respond to the Election of Donald Trump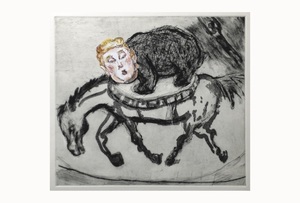 "OUTRAGE: Artists Respond
to the Election of Donald Trump" an online exhibition of art work by 20 artists
https://sites.google.com/site/outrageartistsrespondtotrump/
Art Hazelwood, Aileen Bassis, Patricia Dahlman, Donna Coleman, Anne Dushanko Dobek, Vaughn Spann, Cicely Cottingham, Robyn Ellenbogen, Doug Minkler, Ilse Schreiber-Noll, Lisa G Westheimer, Ray Must, Anne Q. McKeown, Miles MacDiarmid, Michael Dal Cerro, Hubert Neal Jr., Ozlem Ayse Ozgur, Joseph O'Neal, Carol Radsprecher and Cheryl Harper
Ray Must, "Pale Rider" lift ground aquatint etching and collage, 16" x"18'
https://actipedia.org/project/outrage-artists-respond-election-donald-trump
---
STATE OF THE UNION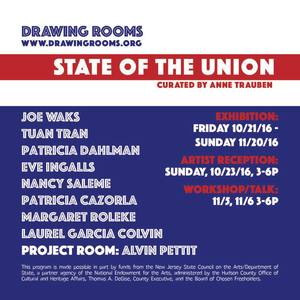 ---
Power and Politics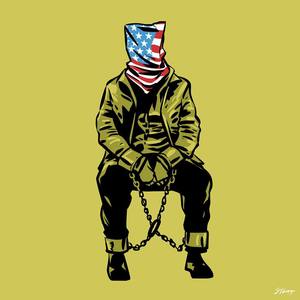 Safe Harbors Ann Street Gallery is delighted to present their newest exhibition Politics and Power, opening on Saturday, October 8, 2016 with an Artist Reception from 6:30 p.m. – 8:30 p.m. The exhibition highlights the works of twenty-six artists from across the nation and abroad, whose works are focused on relevant key political and social issues. This event is free and open to the public.
The art forms on display in the Politics and Power exhibition are as diverse in subject matter as they are in size and media—from psychologically charged paintings, ecological sculptural models; to tiny situations and wall size installations. All of the works on display are seen through the lens of the artist and reflect their own personal political experiences. With bold voices, these artists have positioned their works in current subjects that strategically engage the viewer in a critical examination of political, social, and economic topics as varied as: climate change, political leaders, surveillance, gun control, food security, racial injustice, corruption, and a plethora of other controversial issues surrounding our upcoming presidential election.
Artists featured: Celine Browing, Morgan Craig, Patricia Dahlman, Stephen Derrickson, James Ehler, Brian Gaither, Mona Gazala, Cheryl Harber, Andrew E. Johnson, Blazo Kovacevic, Marina Kuchinski, George Lorio, Kevin Mercer, Carl E. Moore, Hubert Neal Jr., Dave Pettengill, Dan Ran, Leslie Robinson, Jack Rosenberg, Bill Rybak, Martaleah Sandler, Jason Stout(TN), Jason Stout(TX), Dan Tague, Katee Woods, and Yatam Zahar
The exhibition was curated by Virginia Walsh and will be on view through Saturday, November 26, 2016.
The Safe Harbors Ann Street Gallery is a nonprofit art gallery specializing in contemporary emerging and established artists. The gallery is located at 104 Ann Street in Newburgh, and hours are Monday through Thursday 9 am-5 pm, and Friday through Saturday 11 am-5 pm, Newburgh Last Saturday until 8pm.
For more information regarding Politics and Power or the Ann Street Gallery, contact Virginia Walsh, Director at (845) 784-1146, vwalsh@annstreetgallery.org, or visit www.annstreetgallery.org.The Safe Harbors Ann Street Gallery is pleased to present Power and Politics, a group exhibition – on Saturday, October 8, 6:30 – 8:30 p.m.
Gallery Hours:

Wednesday and Thursday 9 a.m. - 1:30 and 2:30 - 5 p.m.
Friday and Saturday 11 a.m. to 5 p.m.
Newburgh Last Saturdays of each month 5 p.m. to 8 p.m
https://www.youtube.com/watch?v=MloBxyF8p-Q

http://hudsonvalleyone.com/2016/11/03/eclectic-and-welcoming-how-virginia-walsh-and-ann-street-gallery-brought-first-rate-art-to-a-tough-neighborhood/

---
Intersection 2016
Intersection 2016- October 21 - November 17
Intersection features work by artists that have studios located at 31 Central Avenue in Newark. 31 Central has been occupied by artists and creatives for more than three decades, helping to establish an emerging arts community in the Halsey Street area and Downtown Newark. Intersection will also feature works by artists that have studios at 237 Washington Street – Index Art Center's new location after a fire displaced the organization in 2013. Intersection was originally conceived of in 2011 as an annual exhibition to highlight artists that had been working at Index's old location (585 Broad St.) and at 31 Central Ave. during Newark Open Doors. This exhibition follows
suit, curated by Lowell Eugene Craig, co-founder of IAC and a studio resident at 31 Central.
There will be a parallel exhibition curated by Anonda Bell at Rutgers University located at the Robeson Campus Center Gallery (opening September 6 and closes December 22, 2016. Reception Thursday September 22, 5pm – 7pm)

Exhibiting Artists:
(31) Katrina Bello, Akintola Hanif, Stephen Mckenzie, Kevin Merkel, William Oliwa, German Pitre, Kati Vilim,
Robert Shoup (237) Colin Sheilds, Patricia Dahlman, Agnes Deja, Kevin Durkin, Gabe Gutierrez, Colleen Gutwein, Lowell Craig, Heidi Lorënz-Wettach Hussa, Jillian Keats, Sohoah Lee, and Joseph O'Neal

Reception: Friday, October 21, 6 - 11 pm

Also Happening-
Index Side Gallery: Pop Up shop by Fern & Fossil
27 Mix: Artwork by James Wilson

Gallery hours are by appointment.
Admission is free and open to the public.

This event is sponsored by our neighbors 27 Mix and Kilkenny Alehouse.
---
Neon Summer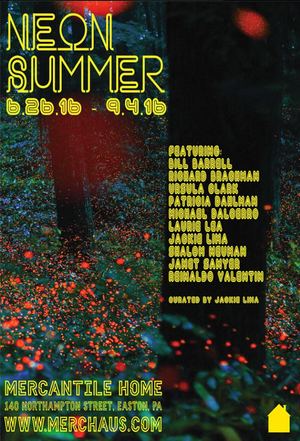 "Neon Summer"

curated by Jackie Lima

Mercantile Home

140 Northhampton St.

Easton PA
---
Unpacking the 21st Century: Artists Engaging the World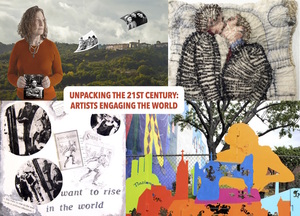 UNPACKING THE 21ST CENTURY: ARTISTS ENGAGING THE WORLD Aliza Augustine, Aileen Bassis, Patricia Cazorla, Patricia Dahlman, Nancy Saleme
June 4 - 25, 2016
Opening Reception: Saturday June 4, 6–8 pm
Special Events:
Sunday, June 5, 3–5 pm
Special Viewing for Children of Holocaust Survivors & Families with Aliza Augustine RSVP mizaliza@gmail.com
Wednesday, June 8, 7 - 9 pm
Prose, Poetry and Performance: Readings by poets Bhisham Bherwani, Terese Svoboda and Perfomance, "'E' as in Event" by dancer and choreographer Luis Lara Malvacias with spoken words by poet Judah Levenson
Saturday, June 18, 3 pm Artist Talk
WESTBETH GALLERY
55 Bethune Street (corner of Washington Street) New York, NY 10014
westbeth.org
Gallery Hours: Wed. - Sunday / 1 - 6
www.westviewnews.org/2016/07/4877/
http://www.artslant.com/9/events/show/416627-unpacking-the-21st-century-artists-engaging-the-world

https://www.facebook.com/events/896851423770536/

https://actipedia.org/project/unpacking-21st-century-artists-engaging-world

---
Art Block!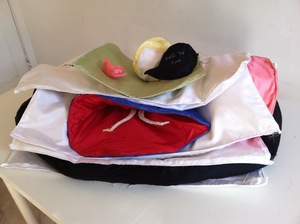 Hosted by Gallery Aferro, Index Art Center, and The Newark Print Shop

Saturday, March 12, 2016

Index Art Center Open Studios

Studio 1

237 Washington Street, Newark, NJ

12pm - 6pm

https://www.facebook.com/events/590175551121051/

---
Picturing The Garden State (Now)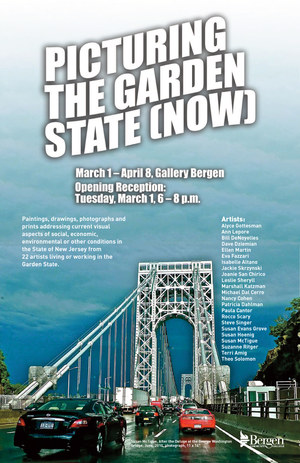 Picturing The Garden State (Now)

March 1 - April 8, 2016

Gallery Bergen

Bergen Community College

Paramus, NJ

opening reception Tuesday March 1, 6-8pm

http://joaniesanchirico.blogspot.com/2016/03/picturing-garden-state-now-opening-at.html

---
Presentation and Discussion on Philip Guston's Influence on Other Artists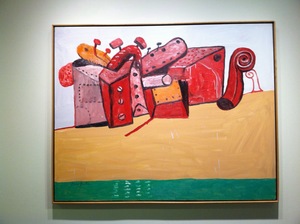 Philip Guston's Influence on Other Artists

As part of the program "Newark Museum Through the Eyes of Gallery Aferro Artists," Patricia Dahlman will be giving a presentation and discussion at the Newark Museum in front of Philip Guston's painting "Slope." This will take place Sunday, March 13 at 1:30pm. We will be discussing Philip Guston's influence on other artists. As part of this presentation Patricia put "the word out" that she was interested in communicating with people that were influenced by Philip Guston and/or studied with him. The result is this online exhibition and comments

This will also be a handout at the presentation.

For information about exhibitions at and how to get to the Newark Museum please go here www.newarkmuseum.org
---
Sideshow-Life On Mars "Nation IV Thru The Rabbit Hole"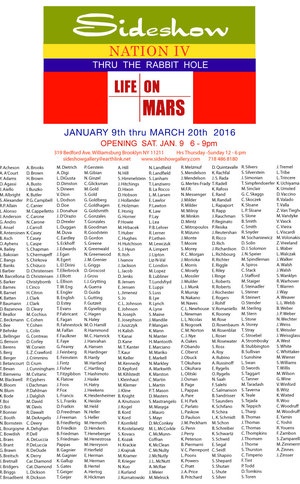 January 9th extended thru April 10, 2016
Opening Saturday, January 9 6-9PM
319 Bedford Ave.
Williamsburg, Brooklyn 11211
www.sideshowgallery.com
---
BANG! BANG! ART Against GUNS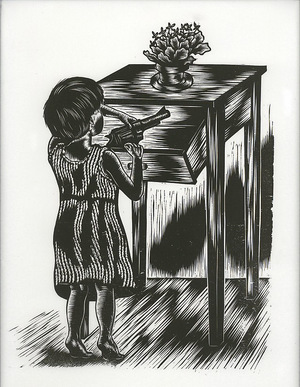 Gallery Gaia

79 Hudson Ave.

DUMBO, Brooklyn, NY

January 7-31, 2016

Gallery hours SAT/SUN 1-6pm

Opening reception Thursday, January 7, 6-9pm

https://www.facebook.com/Gallery-GAIA-545429298888167/

---
Patricia Dahlman and Michael Dal Cerro: Sculpture & Prints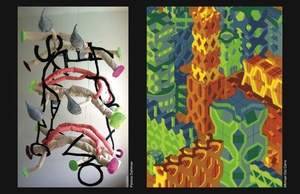 Romano Gallery
Armstrong-Hipkins Center for the Arts
Blair Academy, Blairstown, NJ 07825
March 24 - April 25, 2015

Opening: Thursday, March 26, 7 - 8PM
Hours: Monday - Saturday, 10AM - 6PM
or by appointment, call 908-362-6121
http://www.blair.edu/news/item/index.aspx?pageaction=ViewSinglePublic&LinkID=8899&ModuleID=85

https://www.flickr.com/photos/blair_academy/sets/72157651136384597/

---
"BIG OPEN BOOK"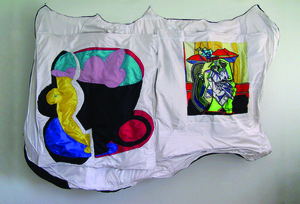 "Big Open Book"

A site specific work made with fabric and thread by

Patricia Dahlman




Art Wall on Third

curated by Arezoo Moseni

January 12 - April 1, 2015




An Artist Dialogue

Patricia Dahlman and Margaret Mathews-Berenson

Saturday, February 21, 2015

2:30-4:30 The Corner Room




The Art Collection

Mid-Manhattan Library

455 Fifth Avenue, 3rd floor

New York, NY 10016

212-340-0871 www.nypl.org




Monday - Thursday 8am-11pm

Friday 8am-8pm

Saturday-Sunday 10am-6pm




NEW YORK PUBLIC LIBRARY

http://www.nypl.org/events/programs/2015/02/07/patricia-dahlman-margaret-matthews-berenson-artist-dialogue-series


www.libraryasincubatorproject.org/?p=16357